Designing your own t-shirt can be an intense and grueling process but it doesn't have to be. In this post, you'll find how easy it can be to design your t-shirts for print using the right tool and the right service.
Designing and printing your own t-shirts can be a fantastic business opportunity. Once you have created your own designs, you can put them into production and sell them on the market at whatever price you choose. This can be a great addition to an existing e-commerce store or you could establish a business entirely around selling custom printed tees. It's entirely your choice.
To get started, you need to find the right t-shirt printing company. Once you start researching, you'll discover there are hundreds if not thousands of businesses like this on the market. You need to make sure that you are choosing the right company for your needs.
At J's Silkscreens, we strive to deliver the ultimate solution for people looking for custom t-shirts printing. With our service, you can design your own t-shirt and ensure it's ready to collect in no time at all.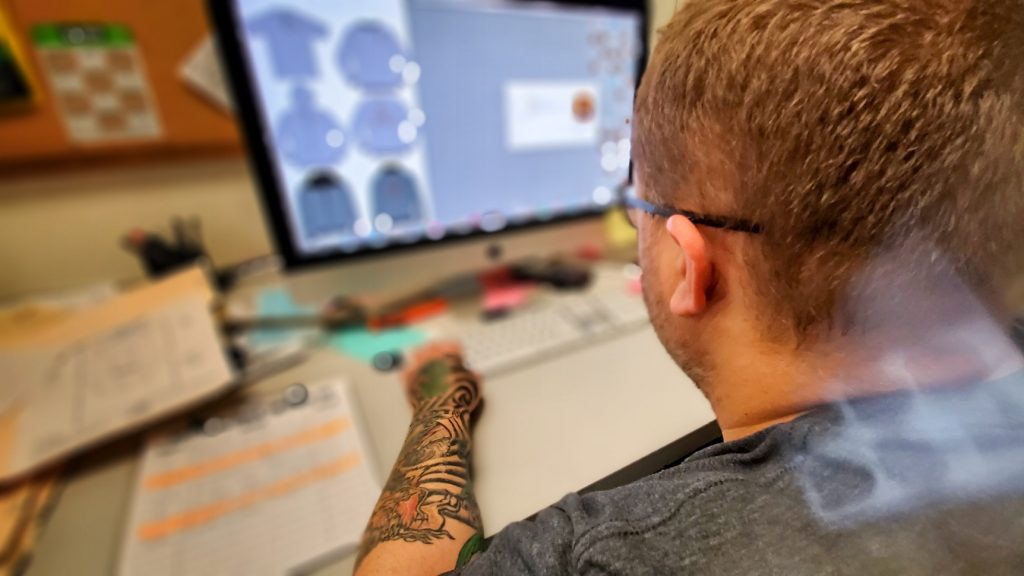 Who Will Benefit From This Option?
As already mentioned, this could be a fantastic opportunity if you have already set up a business or you are thinking about establishing one online. It could also be perfect if you are keen to add more products to your brick and mortar store.
Private individuals can also benefit from this fantastic service. You might be interested in creating t-shirts with custom designs for a sports team or a community/organization. Regardless of your needs, we've got you covered with budget-friendly options and a guarantee of high quality.
Let's look at how this works using our solution.
An Introduction To Our Design Studio
Depending on the company you choose, you'll find that designing your own t-shirt can be quite different. Some companies expect you to spend hours designing your t-shirts with platforms that have incredibly long learning curves.
Other businesses provide limited options when accessing design features. This means that your t-shirts could end up looking like all the others on the market and that's definitely a problem. Particularly if you are hoping to ensure that your business stands out and makes a tremendous first impression.
At J's Silkscreens, we aim to make designing t-shirts as simple as possible with a focus on a platform that was created to be completely user friendly. You don't need to be a genius to design a t-shirt using our site, nor will you need any prior knowledge.
To get started, you will need to access our Design Studio. This will be the initial point when creating any t-shirt design that you can think of.
The first step is to choose the product that you want to create. You'll find countless options here including:
Tye dye t-shirts
Sports shirts
Relaxed jersey style shirts
Long body urban tees
And many more
Don't worry, they're all completely customizable so you can start with a basic product and create something completely unique.
You will also be able to select t-shirts in a wide range of colors, and we're just getting started with the options available!
You can now start to think about the design of the t-shirt that you want. You can choose the text, the graphics, and the art that is going to appear on the shirt.
It's even possible to design different sides of the shirts so you can have a t-shirt with graphics on both the front and back! This is great if you're creating a product to promote your brand.
When you are choosing text, art, or graphics you will be able to customize each piece of the design to the finest detail. This means that you can choose:
The size
Shape
Style
Position
It's another way to ensure that the t-shirts are completely unique for your business.
When selecting graphics and artwork, you can choose from our massive library. Or, alternatively, you can add your own unique images. You can even mix and match, adding your images and then adding a piece of artwork from our library. This means that there is an unlimited level of customization. If you're creative you can build something completely original.
How Long Will It Take?
You can spend as little or as much time in our design studio as you need. A simple t-shirt design can be created in under five minutes. This includes adding text, choosing images, and preparing the t-shirt for order. Alternatively, you might want to spend longer perfecting your design and guaranteeing that it is going to be a tremendous hit with your clients. The more time you spend on your design, the more likely it is that you can access a wider target audience.
Extra Features
You'll find that we offer additional features that you won't find when you design your own t-shirt with other businesses.
This includes the ability to save your design. By saving your design you'll be able to come back to it time and time again. You can even return to designs that were popular in the past! You'll also be able to start with a base design that you have created and fine-tune it or reinvent it completely. This means that you can deliver more of what customers want, while making the key changes that they have requested with ease.
It's a seamless process and will ensure that you can introduce new products immediately.
What's The Next Step?
Once you have completed your design, you will be ready to customize your bulk order of t-shirts. You can choose the number of t-shirts you want in different sizes. We can then provide you a complete quote for your order. This provides you with complete peace of mind that creating t-shirts with our site will match your design budget.
The final step before printing is the approval of your product. Your art needs to be approved by our team but this is a rapid service. We aim to keep turnaround times as short as possible. When your design has been approved it will immediately go to print and be ready to pick up in days.
Key Benefits Of Designing Your Own T-Shirts With Your Business
It can be difficult to find the right company when designing your own t-shirt. We aim to make your decision easier by offering you benefits and additional extras that you won't find elsewhere on the market.
For instance, with our service, when you design your t-shirt you will be able to access more than 13,500 different graphics and pieces of artwork from our library. This means that you won't have to worry about running out of possibilities. With our massive selection, you can create an awesome design that your customers are sure to love. Or, you can find the perfect pre-made design for your project. The choice is entirely up to you.
We're also proud to be able to offer a wide range of different t-shirt styles. You might be keen on creating t-shirt designs specifically for women. On our site, you'll find the style to match and this also means that you can create the same design in a wide range of different styles too! We guarantee this is going to be a big plus for your customers. Not every t-shirt style is going to match the desires of every customer. With our service, you can sell to the widest audience possible and select sizes up to 5XL.
We also ensure that you can access a service that provides a fantastic level of quality. This means that you don't have to worry about the t-shirts disappointing your customers. Instead, our t-shirts are produced to last for years without any sign of wear and tear or damage at all. You'll find that the artwork stays clear and bold for years too.
How do we guarantee this, you may ask?
We have a full team of expert printers that have a wide range of tools at their disposal. Regardless of the type of print that you want, we promise that there will be no issues here in terms of the final product. Of course, we also have a completely accessible business. If you have any questions or queries about your order, you will always be able to get in touch with us and gain the answers you need. Our aim is to offer a completely transparent solution and ensure that you don't have any issues at all when using our service.
Tips For Designing Your Own T-Shirt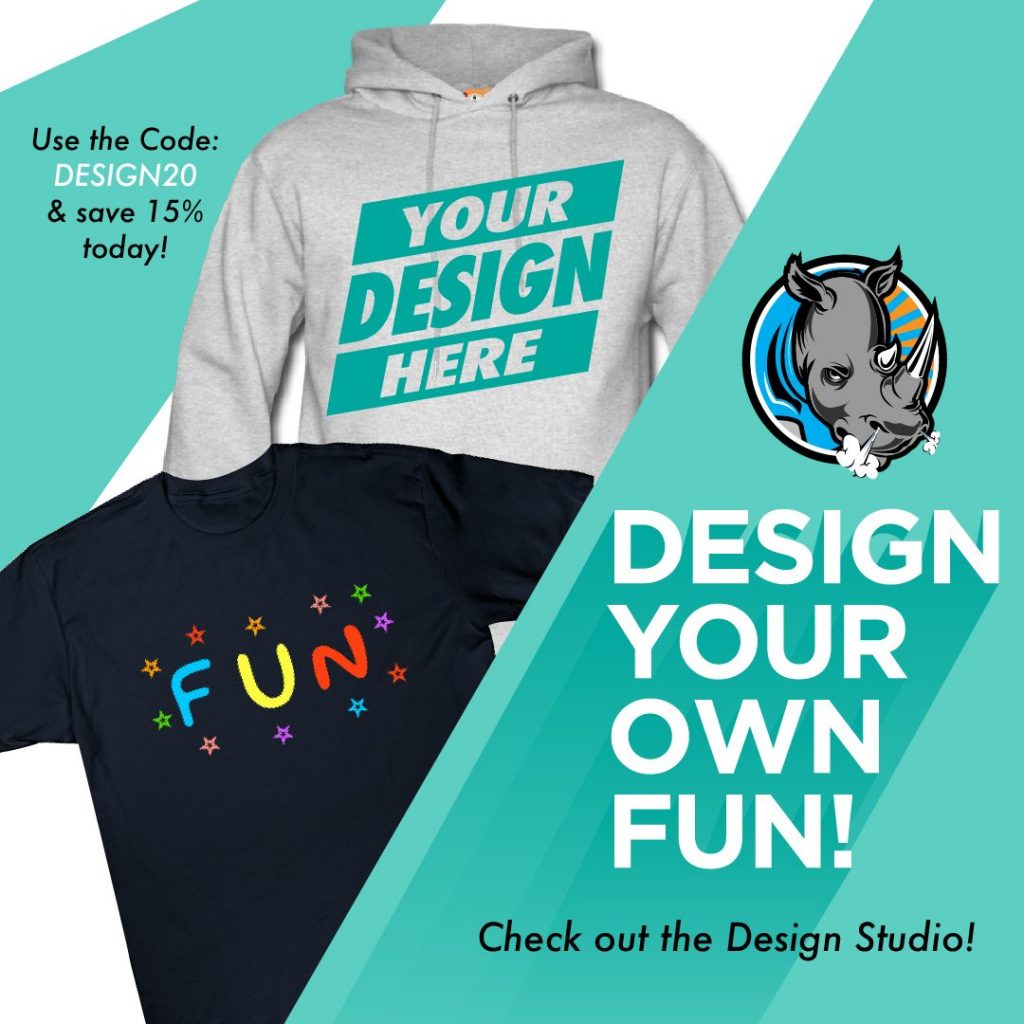 Now that you know how easy it is to design your own t-shirt and get it ready for the market, let's explore some of the ways to approach this the right way. In doing so, we can help guarantee that your t-shirt design is a huge hit.
Look At Past Creations
We're by no means suggesting that you should copy other designs that you find online. That's a recipe for disaster! Instead, take a look at designs and specifically pay attention to designs that have been popular with customers in the past. In doing so, you can then put your own spin on these creations and add a unique idea or flair. It's a great way to ensure that your t-shirt already has a built-up audience that's probably ready to buy.
Focus On Trends
You can think about creating t-shirts around trends or current events that are going on right now. This is going to make your t-shirt relevant and interesting to a customer base. It will also give them a reason to buy the t-shirt as soon as they see it rather than waiting for it to drop in price.
Choose Your Price Carefully
At J's Silkscreens, we work hard to ensure that we offer rates that are going to be a tremendous benefit to you. Our aim is to ensure that you find it easy to make a profit if you are selling your t-shirts on the market. However, it's important to be aware that you still need to be careful when choosing your price. It's important to think about how much customers are willing to pay and how much you need them to pay to make a profit. Again, it can be useful to look at the prices of other products on the market right now.
Think About The Production Method
There are numerous printing methods to choose from when selecting a service and designing your own t-shirt. You can think about using screen printing or heat applied transfers. Be aware that each possibility does come with different benefits. For instance, if you are planning on ordering your design in bulk, then it could be worth exploring screen printing. This is going to keep the cost affordable without impacting the level of quality. For smaller orders, heat applied transfers could be the right option. It's worth keeping in mind the type of design you are creating here too including the number of colors you're going to use.
Finetune Your Design
You can't always get the perfect design the first time. The good news is that with our design studio it's easy to come back and try again. You can access your saved designs and change them in different ways, perfecting them as you think about the right changes to make. Perhaps the font was just a little too big or maybe the art didn't quite match the style of font that you chose. With our service, you can make these key changes in seconds and see greater success with your next order.
Get In Touch Now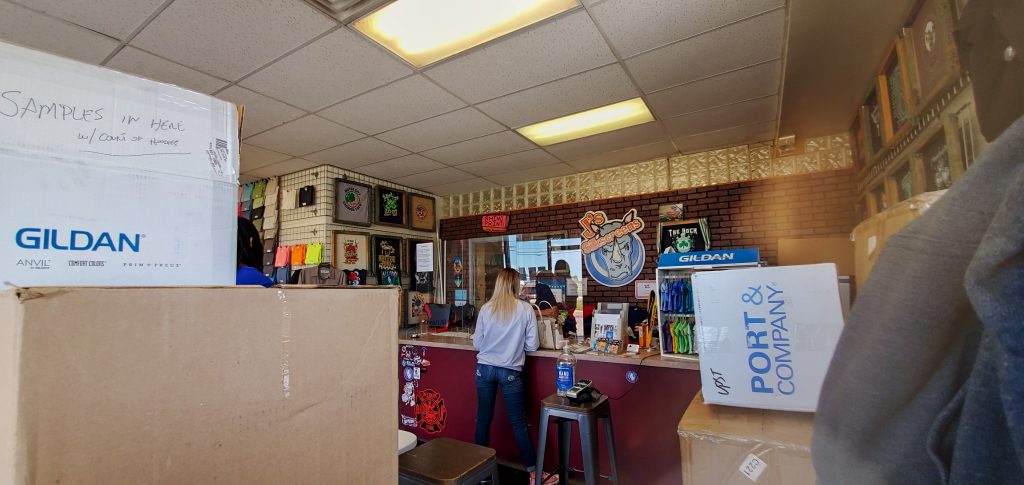 If you are interested in designing your own t-shirt please make sure that you get in touch with us today. We're always happy to answer any additional questions and our skilled support team is passionate about providing the ultimate solution. We firmly believe that with our service, you can design any t-shirt that you want. Whether you're designing a product for your private use or to add to your business product list, we're confident we can support you.